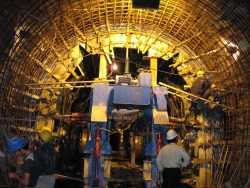 Yekom has been providing dam engineering services consisting of feasibility studies, detail design, construction supervision, management consultancy, and rehabilitation works of dams, hydropower plants and reservoirs for over 40 years. These services includes various types of dams such as arch dam, earth dam, rockfill dam and concrete face rock fill dam together with relevant hydropower plants.
Beside the conventional and updated structural design software, Yekom uses special procedure for analysis and interpretation of dam body and large structures. Meanwhile, stability analysis and rehabilitation of old dams are carried out including renovation and modernization of equipment, instrumentation, control systems, and gates.
Today, Yekom is involved in a number of dam design schemes, dam renovation, and power plants. Rehabilitation of large SefidRud Dam is an example of the kind of projects that Yekom is involved in.
The services provided by Yekom in relation with dams and hydropower plants are as follows:
Design of various types of dam and hydropower plants
Design of run off river hydropower plants
Instrumentation and control systems of dam body and appurtenant structures and gates
Design of hydraulic tunnels (free flow and pressurized)
Design of special structures using pertinent standards and software
Design of construction procedure of dams and large infrastructure projects
Development of special computational hydraulic models
Development of dynamic models for flow modeling and quality of water in reservoirs and lakes
Geotechnical services on the site and in laboratory
Value engineering services, with the aim to achieve more benefit and reduce cost and construction period of the project
Our multidisciplinary professional team includes geotechnical, hydraulics, civil, mechanical, instrumentation engineers and hydrology, water resources, groundwater and environmental specialists. Our clients will receive practical and innovative solutions engineered to fit perfectly with their business challenges.