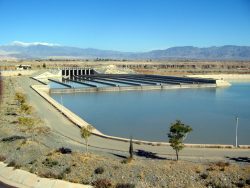 The issues of water supply engineering have always been major challenges around the world. Since Iran is
located in an arid- to semi-arid zone, construction of dams, weirs, qanats, and irrigation networks have been inevitable for the development of country during its history.
Water Resources Engineering, as one of the main fields of Yekom services, has had a special place in our agenda and has highly contributed to our study and development activities in water projects.
Services provided in this field may be categorized as follows:
1. Water Resources Baseline Studies

Meteorology and climatology
Hydrology and hydrogeology
Geology and geo-techniques
GIS services in water resources
Soil investigation, soil classification, and land suitability
Surface and groundwater quality and quantity

2. Water Resources Engineering

Hydraulic systems design and water resources allocations
Water transmission systems considering energy conservation
Ground water recharge systems
Land reclamation and rehabilitation for various purposes
Flood way design and flood control in urban and non-urban areas
Water resources monitoring systems design
Our multidisciplinary professional team includes experts of civil engineering, water resources, irrigation, agronomy, hydrology, hydrogeology, water resources management, and environmental specialists.